The Beginner's Guide to Chatbots for Brand Engagement
Chatbots are transforming brand experience and redefining how brands engage their brand community – but not all are created equal. A lovable chatbot is a great way to keep your visitor hanging on, dish out efficient customer service and nail down a conversion. A bad one is annoying and a great way to get them to close their browser window.
Here we talk you through all things chatbot – what they can do, who needs them and how to use them.
Imagine this. You're walking past a shoe shop. You spy a couple of things that interest you through the window so you go in. It's brilliant – you're not sure what kind of shoes you're after or how much anything is but you're happy to look around, knowing the sales assistant there if you need him. But then he comes over and asks the worst question in the world: "Can I help you?"
He can't. If you needed help, you'd have asked for it. He can see you've just stepped through the door. After awkwardly stumbling around fingering a few pairs of loafers, you breathe a flustered 'bye' and hurry out feeling mildly irritated.
If you put one of those "Hi, can I help you?" chatbots on the homepage of your site to pop up as soon as the visitor arrives – I'm sorry to tell you but you're that annoying sales guy.
What is a chatbot?
Chatbots are agents that streamline interactions with customers via text or voice command. They communicate and perform basic tasks like answering questions and placing product orders – when they work, that is.
In 2017, Facebook announced it had a 70% failure rate with chatbots on its Messenger app. Critics took this to mean that bots could only fulfil 30% of requests without a human stepping in.
Last year Forrester's article in Forbes surprised us with the claim that "new conversational interfaces will drive deeper relationships between consumers and brands."
This begs the obvious question: "how on earth can robots help create stronger relationships with human beings?"
The answer (as it always is for us) is great content. Delivering it in an efficient, meaningful way creates trust with your audience and keeps them coming back for more.
Why we love chatbots
To be clear, we only love helpful chatbots – not annoying ones. Less C3PO, more R2D2. Good chatbots:
– Streamline customer service
– Enable scale and personalisation
– Foster stronger customer relationships
They can interrupt the visitor by offering something of value (e.g. on your website) or be there to respond when they need something (e.g. on Facebook Messenger).
Examples of some killer chatbots
Playful usefulness is the key to a great chatbot. There are bots out there that can order your favourite pizza, hail you a cab, help you apply your makeup, keep you up to date with news and deliver delicious recipes.
Smashbox
Cosmetics brand Smashbox employed Manning Gottlieb to design and build its first chatbot. Far from being a simple extension of its existing customer service channels, the bot lets users explore new products, read content, find their nearest store, book beauty appointments and even try on makeup products with augmented reality.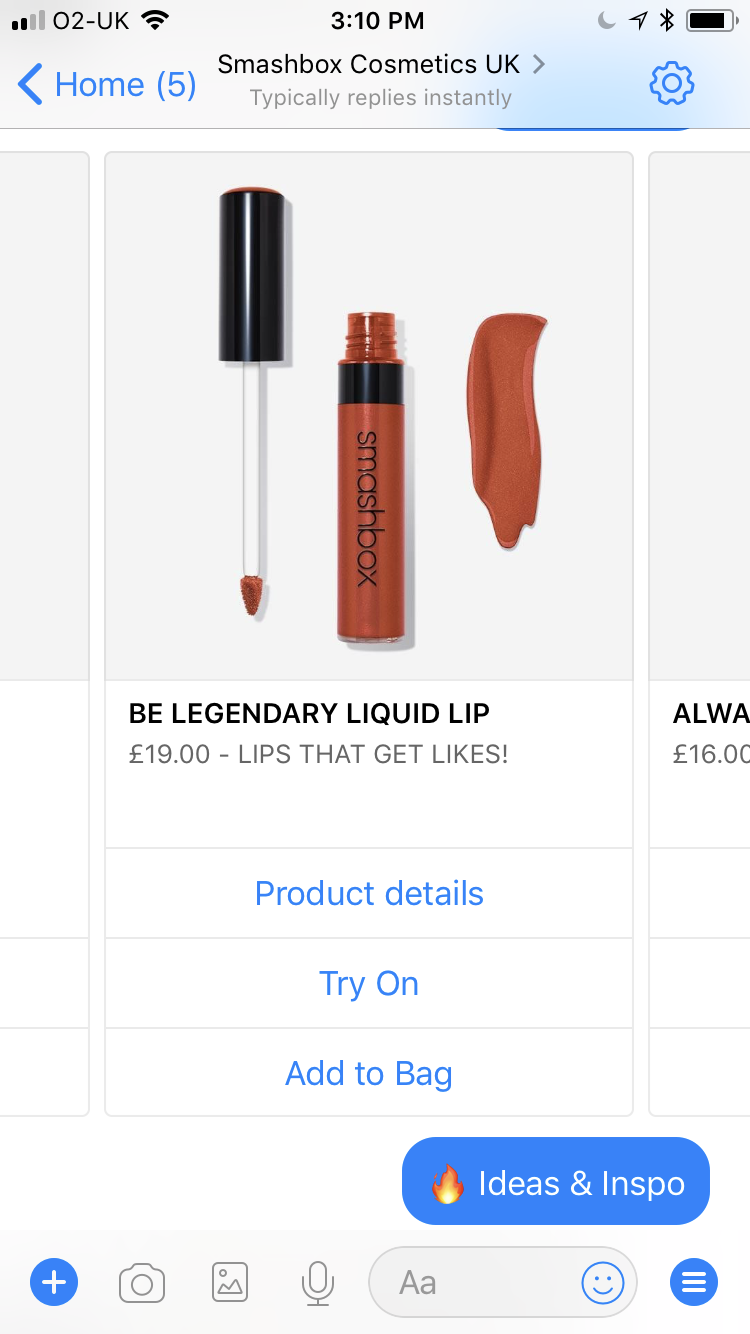 Spotify
Spotify's bot on Facebook Messenger recommends playlists based on your mood, what you're doing or any other criteria you might have.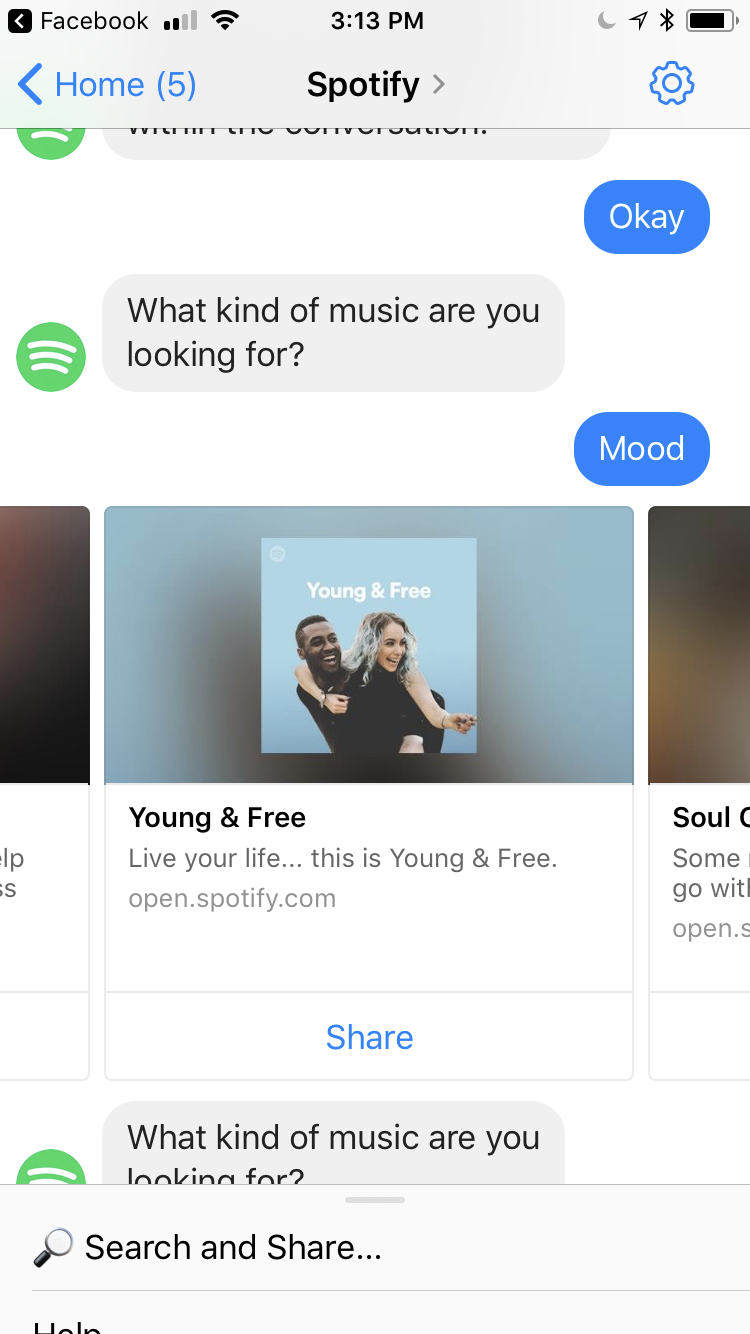 Mitsuku
The three-time winner of the Loebner Prize (awarded for achievements in AI) Mitsuku is known as the world's best conversational chatbot. I went to her to shoot the breeze: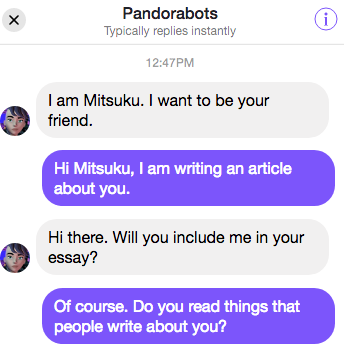 How to create lovable chatbots
Think strategically The kind of action you want people to take on your site will have a big impact on how you use your chatbots. Google Analytics means we don't have to guess what people are doing on our site – if we want we can review each individual journey. Whether someone is a potential buyer or just interested in the content on your site they are giving you value. Use insight to find the point where they are dropping off – this is where your bot should swoop in and offer the thing they didn't know they needed.
Personalise Bots or no bots, people like to see brand's understanding them and their specific needs. What has attracted the visitor? Say we're talking about our recent blog post: "Keep Up With the Kardashians on Instagram." Did they visit because they are interested in the Kardashians? Are they a competitor wanting to check our what you've been up to? Or are they a potential customer? Using what the site has learned from the user's behaviour past and present, it can work intelligently to serve them in a relevant, personalised way.
Your website's biggest problems solved with bots
"They are reading my killer blog posts – then leaving straight away"
So long as customers are on your site they are passing you SEO value. This makes your mission relatively simple. If they've come to you to read a killer piece of content, you need to be one hand to offer them something new. A content bot can slide in at just the right moment, without being too intrusive and offer that content. HubSpot do this really well: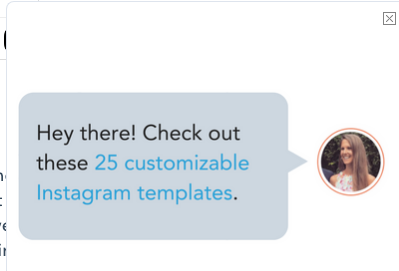 Their bot has suggested a resource relevant to the blog post the visitor is reading. The result? The customer skips around your site and you lap up that all-important SEO juice. Best case scenario – your bot serves your visitor highly targeted content, then delivers CTAs in the chat window to get a conversion out of them there and then.
"They are looking at my products/ services, then leaving before buying."
People can only pay attention for so long. You want that distraction to happen on your site rather than off in another browser window. Assess your sales pipeline. Use bots to suggest products your customers might be interested in, or to serve product discount codes or offers at just the right time as indicated by Google Analytics.
"As long as they stay on my site, I don't really care what they do."
Good answer. Whether you're dealing with a customer, competitor or curious cruiser, use bots to keep them on your site for as long as possible.
Remember …
Not everyone loves a bot
The crux – is a bot right for my audience? Lots of people Most questions you have can be solved by rounding up a quick focus group and telling them what you could do for them – would they like a personal assistant? Maybe, maybe not …
Things evolve quickly.
With NLP and personal assistants like Siri and Alexa moving on and integrating ever more into our lives, things are moving on quickly. According to our digital director Andy, chatbots are set to revolutionise absolutely everything we do online – with some of th mos content is no exception.

Don't expect instant results
Your chatbot can't do all the work for you (no matter how lovable). Stick with your strategy and collect data every step of the way so you can sharpen things up in the future.